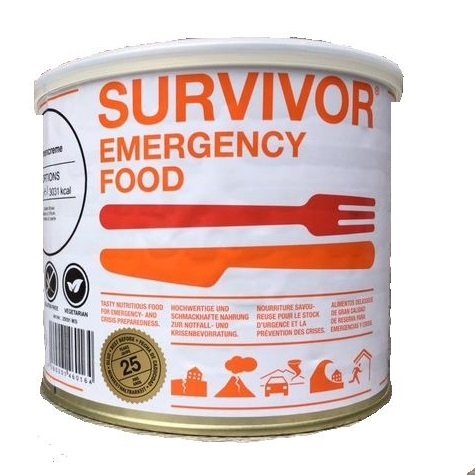 Apocalypse is not a joke. Like, really. Anything can go wrong and the whole civilization is going to hell, anytime. It does not have to be a mssive scale endangerment of the human species...
Apocalypse is not a joke. Like, really. Anything can go wrong and the whole civilization is going to hell, anytime. It does not have to be a mssive scale endangerment of the human species. Just imagine all supermarkets in your area closing and even the grocery shops not offering any food. How many of you would be able to feed your family and loved ones from what you have at home right now? Three days? Of course, the chance of something like this happening is fairly low and we definitely do not want to scare you like some sect propheting the end of the world every ten years. Although, if there's at least a small part of a prepper in you, we can offer a fairly large selection of food, that will keep you going both in wilderness and at home in sudden case of crisis.
There are dozens of articles telling you which supplies to keep at home. The same amount of articles will tell you what to také on extensive outdoor hikes. Over a year ago in our magazineine we published the Bare basics for the Apocalypse, which was a fun take on the basics of preppery. Truth is that it's tricky to point to the one thing that's right for you. There are too many factors that go into your decision making, such as how much storage space is available, how many people there'll be to feed, whether there's drinking water for cooking, if you have pots etc. However, there are a few clear principles that could point you to the right direction. In a nutshell, you need to make sure that any food stored will provide enough calories, vitamins, electrolytes, fats and other basic nutrients. Bear in mind that critical situations can be physically demanding. Well, you get it. Dehydration or lack of energy in demanding situations can be the end of just about everything.
So let's have a look at what Millitary Range has to offer in its Emergency food and beverages section: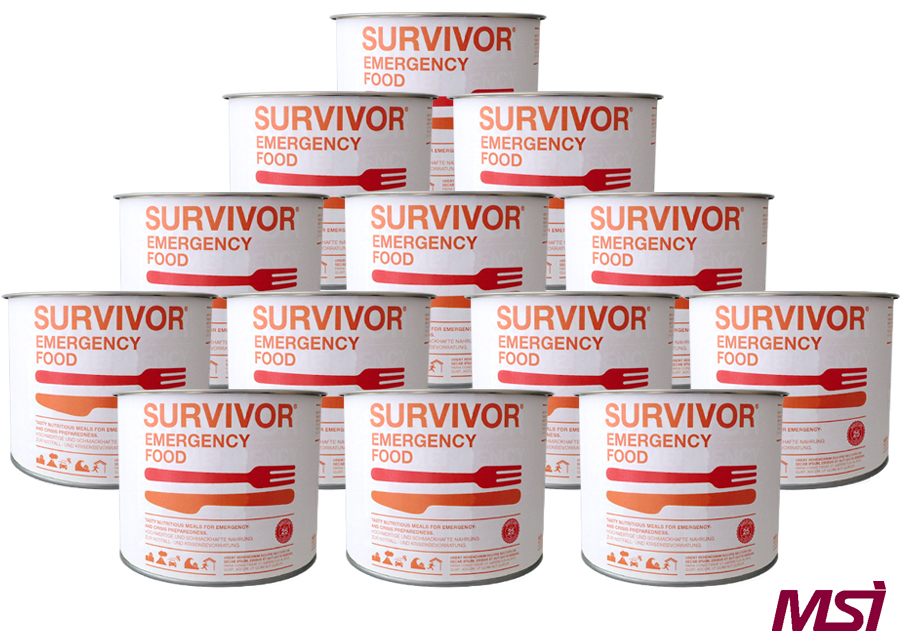 Adventure Menu
Let's have a light start with the established Adventure Menu brand. These foods are available in astonishing variety and can satisfy both meat-eaters and vegetarians. Menus are almost entirely gluten-free and have enough energy to keep a grown man functioning even during physically demanding activities. Another great thing is that you don't need to directly add water make the food. But keeping it warm, well, that's something else. You don't exactly crack it and heat it, instead you put the package in another special heating pack, then add some water and a special capsule and, voilá, luxury lunch at just the right temperature is on your table. One meal usually has about 400 grams, so it should be enough even for those with quite an apetite, or for two individuals with minor energetic needs.
Adventure Menu offers goulash as well as fun stuff like jerky or trail mix.
Jerky is the classic food, which we assume everyone is familiar with. But just to make sure: jerky is dried meat. Like, real meat, no substitute, no water or tons of preservatives or similar disgusting stuff added. You simply take a piece of meat, cut neatly into even slices, add salt and dry very slowly and friendly, until small pieces of yum appear. It's non-alergic, nutricious and it's light and easy to pack.
Trail mix is some hot brand new stuff. Not literally hot.. we don't heat it.. or sell it warm.. but it arrived to our shop not so long ago. Trail mix is a snack for when you're feeling like something but there's no time to waste. The "mix" part indicates it contains different kinds of foodstuff, like nuts, some meat, dried fruit or etc. Trail mix is relatively small, easy to pack and full nutrients. That's just what you want for extensive tracks. Like, really, would we lie to you?
IMRE, KDP, NRG
Admit it, who did not know about IMRE? We assume everyone know IMRE well, but still.. IMRE is a type-C food ration designed by the users of BDP – Combat Food Rationing and leading military and outdoor activities researchers. This package should ensure the energy for eight hours for an active individual, even during intensive physical activity. Package for 24 hous is also available. IMRE packages are very easy to pack, light and fairly durable. Unlike its alternatives, they require no heating. Yes, this does not make it a culinary wonder, but there are times when heating your food simply isn't an option. Oh, and did we mention IMRE comes in different ''menus''?
KDP or Canned food rationing is another type-C food rationing. It does not sound particularly appetizing, but it sure is a piece of Czech Army classic. KDP consists of four food cans full of yum stuff (really, it's not bad at all!), that will fill your stomach and provide some energy. Typically the cans contain lunchmeat, patés and beef or pork.
NRG (Emergency Food Ration) was cleverly designed for rescue operations, natural disasters and humanitarian aid in third world countries. In these 500-gram packages there are nine bars that are supposed to have everything your body needs. It won't taste like a Michelin-star meal, but if you need something extra easy to pack and nutricious to include in your food storage or emergency pack, look no further! Oh, and it is all wrapped in a heavy duty foil, so you don't have to worry about the contents in extreme coditions.
Survivor
Yaaaay, Suvivor, new brand of products in stock! They all fall under one brand and each is great for longterm storage (expiration in 20 years) in shelters, food storages or emergency baggage.
You can find survival bars, which are certified by NATO. Either you gobble it up directly or you can mix it with water to get a first-class energy drink.
The next are vacuum-packed buiscits. They are great for travels and thanks to their durable packaging you can stuff them anywhere without cracking.
The next Survivor gold is a 1000 g can of Chilli co Carne. Yes, really, the whole pack weighs a kilo and should be the equivalent of 8 portions of nutricious matter with no artificial colouring, preservatives or taste enahncers. And its preparation? Put 125g of dried mix into 300ml of boiling water and let sit for 15 minutes.
Accessories
With this section we basically finish the list of what food you can get in Military Range for now. First thing worth mentioning is the classic SCHO-KA-KOLA, well-known for providing energy to German soldiers since 1935. Choose between milk and dark chocolate.
As for water, you can find it in Military Range too! It's the 125ml water DATREX directly from the USA, or 100ml from German MSI.
---