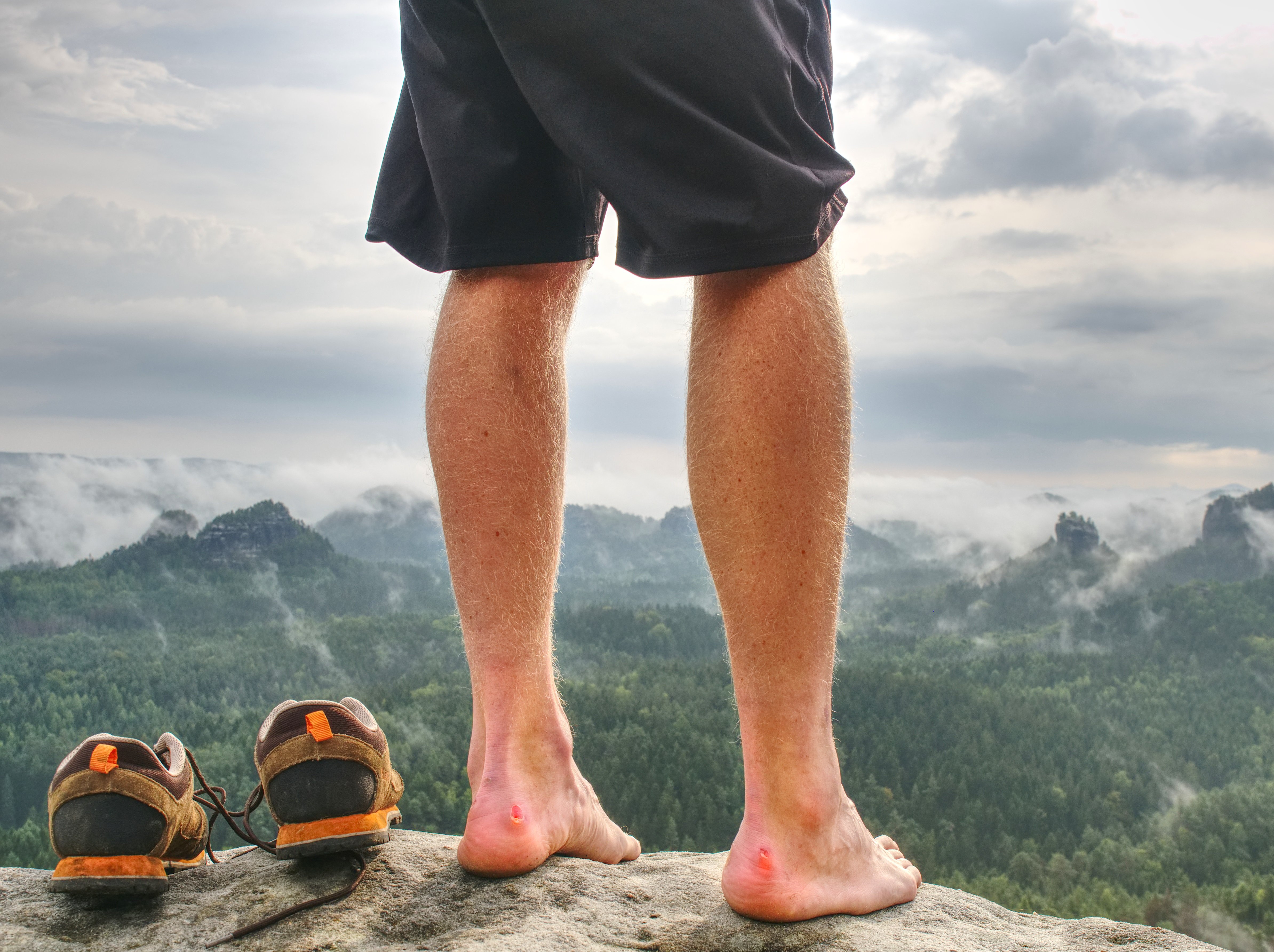 Your feet are undoubtedly the most frequently used way to travel. However, if you do not belong to true hiking fans and are not a former soldier, you probably have never wondered how sensitive your feet actually are and really need proper care. Blisters, callus, corn, and similar problems can turn a pleasant hike into a "compassionate martyrdom", during which you will definitely not enjoy any nice scenery due to the pain...
Your feet are undoubtedly the most frequently used way to travel. However, if you do not belong to true hiking fans and are not a former soldier, you probably have never wondered how sensitive your feet actually are and really need proper care. Blisters, callus, corn, and similar problems can turn a pleasant hike into a "compassionate martyrdom", during which you will definitely not enjoy any nice scenery due to the pain.
Foot care is logically an ability you should definitely have. So, if you follow the tips below, long hikes should not, at least theoretically, cause you any problems.
---
Wear fitting, well-trodden shoes.
Foot care should start before you set off. The most important factor are the right shoes. They must really fit perfectly and be well-trodden. Such shoes will keep your feet in good condition and, as a result, you can enjoy every kilometre of your journey.
How to recognise well-fitting shoes? First of all, the heel of the shoe must attach to the heel of your foot and your fingers must have enough (but not too much) room for free movement. If the shoe moves forwards and backwards or from side to side, there will be friction that results in painful blisters and other difficulties. However, if the shoes are too tight, your toes will suffer on your journey (mainly when going downhill).
The best way to find well-fitting shoes is to go directly to a store that you plan to buy the shoes from (in our case, the branches in Litvínov, Ústí nad Labem and Teplice). Avoid on-line shopping (if you are not going for shoes that you know well). To make shopping as efficient as possible, go shopping in the afternoon. Why in the afternoon? Because your feet gradually swell after a day in shoes (especially in case of a long hiking trip) and you want to have as authentic conditions as possible. Therefore, take socks that you use on hiking trips.
Once you already have comfortable shoes, you need to use and stretch them thoroughly. Definitely do not take them for a 15km hike on the very first day, or you will experience real hell. Start by wearing them, for example, for shopping or short walks. If you experience pain in your foot, do not wear your shoes for some time, let the foot regenerate and put them on the next day. With a little effort and time, you will be able to have the shoe on every day without any sign of pain.
Caution! Even if the shoes are well-fitting, there might be points inside causing unpleasant friction with your foot, which is particularly the case on long hiking trips. Remember these points when first using shoes and try to reduce their action as much as possible.
---
---
Tie your shoes properly
Improperly laced shoes can make the trip very uncomfortable, and therefore, you should not neglect this aspect. Although every foot and shoe is different, in general, lacing should hold your heel firmly in place without restricting blood circulation in your foot.
You can achieve this by basically dividing lacing into two parts, tying more firmly the instep and less firmly the ankle. This will strengthen your foot in the shoe, but it will not restrict circulation. This method is, of course, simpler with high shoes, but there is also a method with lower shoes. Below you will find a video that deals with this issue (mind it is in English).
---
---
Cut your toenails before setting off.
This is one of the most important but also the most neglected pieces of advice. If your toenails are too long, even the best shoes will not perform as they should. Your toenails will push on your toes, which will make walking uncomfortable, leading even to pain or bleeding (or, God forbid, subsequent loss of nails).
Avoid classical round cutting of toenails. Rather do the straight "cut" that reduces chances of toenail onyxis, and reduces friction between toenail and skin. However, do not cut too much, toenails might grow over, and infection in the toes is not pleasant and may result in a need to see a local surgeon.
Apply powder/cream/plaster
This approach requires some experimentation and some knowledge of your body (i.e., the feet). Some hikers use a large amount of powder or cream, while others do not use it at all. You must simply test this yourself and find out what suits you.
A few tips for testing:
Antiperspirant: this spray should theoretically prevent your feet from sweating, which means less moisture, which means less blistering. Therefore, if your feet sweat a lot and you know that then antiperspirant can really help.
Foot powder: another way to keep your feet without any unnecessary friction is to pour a special powder into your socks before putting them on. The powder will enwrap your foot and prevent uncomfortable friction. This will logically reduce the chances of blistering.
Moisturising creams: although it may sound strange, some people apply cream or oil to their feet before a long trip. Again, it is the way to limit friction. In addition to classic creams, you may also try using a lubricant gel. A disadvantage of this method is the 'slippery feeling' and the possible movement of your foot in the shoes.
Plasters: you have two options to use plasters. Either apply them to your foot in points where you know they may be susceptible to blistering or apply them during the trip when you begin to feel sensitive points. This is a quite effective way of preventing blisters.
Do not underestimate the effect of socks.
The most experienced tourists often recommend a two-sock system for long trips. The first pair of socks should be thin, dissipating the sweat. It reduces foot friction and perfectly dissipates the sweat from the foot to the secondary pair which should be woollen. You should also wear socks inside out so that the seams do not scratch the toes and nails.
Also avoid socks made of 100% cotton. They absorb the sweat perfectly, but they dry out very slowly. So, if your socks get sweaty (and/or absorb moisture), your foot is unable to breathe, which creates an ideal environment for blistering.
Also, make sure you have a spare pair of socks with you and change them as soon as you start feeling discomfort or when blisters begin forming. There are also opinions that you should always change socks after 6-8 kilometres. After changing socks, remember to hang the wet socks on the rucksack so that they can dry properly.
Treat your feet even during a hike.
It may be the case that even if you strictly follow our tips, you will feel unpleasant discomfort in your shoes after ten or more kilometres and you will have to take a small break to "observe the damage" caused by the hike to the feet.
Hot sensitive points - the body can say when something is wrong and such a hot sensitive point without treatment creates blisters. You will feel heat in the shoe that is not yet as painful as a regular blister. So, if you feel this, it is the time for a short break and treatment.
Take off the shoes, and if you have spare socks, it is time to change them. If not, take off the shoes and let your feet relax and dry as long as time allows. While doing so, also check the laces, re-apply powder or cream, apply plasters to other painful areas and clean the shoes from any fragments.
Blisters - blisters are painful pockets filled with liquid under the skin. A blister is formed when there is significant friction with the skin. If they appear, you have several options depending on how large it is and whether it has already ruptured or not. If it is small, intact, and not too painful, apply cream,
apply a plaster, and leave it.
If the blister is large and broken, clean it and apply a plaster/bandage the best you can. If you use a bandage, insert a small piece of gauze or fabric between the blister and the bandage. If the skin is dirty or torn off, carefully cut it. If not, leave it as it is, this will help prevent eventual painful infection.
If the blister is large and intact, it will be necessary to puncture and sterilise it (sterilise, for example, by fire from a lighter) needle (or a pocketknife when a needle is not at hand). Indeed, thoroughly clean the blister before piercing it and applying disinfectant. Then apply gauze and cover the blister in a bandage.
Some experienced tourists say that the floppy skin of the pierced blister can be attached using instant glue. In fact, it is not just such a crazy idea, doctors sometimes use adhesives if there is no other option. However, get ready for a large dose of burning ...
However, the truth is that the best prevention of blisters is simply training. Walk, walk, and walk. Your feet will gradually get used to it and will become much more resistant, and you will enjoy beautiful natural scenery more so.
---
---
---