In the beginning was a knot. No, no, wait! In the beginning was the high strenght paracord or parachute cord...
In the beginning was a knot. No, no, wait! In the beginning was the high strenght paracord or parachute cord. It is made from thin, but very strong polyamid (nylon) strands, used mainly by paratroopers and even astronauts. Its unique properties allow you to tie basically anything. On military missions, paracords are used to tie baggage and shelters, to repair gear or for fishing. They are also often used for absailing, lifting supplies or as medical aid.
Despite being around 4 mm thin, paracods can carry over 200 kg. A vast variety of colours is available as well as paracod bracelets made of a few metres of the cord. And they are what we want to present to you.
Feeling playful, or do you prefer the final product?
Neither individual paracod cords or survival bracelets are lacking in our shop. For the creative ones among you, we recommend to get individual cords which you can weave to your pleasure. Just search for "paracod" on YouTube and you'll find plenty of tutorials for creating an original bracelet of many types such as cobra weave, fishtail weave or shark jaw bone weave, celtic knot, ladder braid, dragon teeth weave, monkey fist jig etc. If you're searching for a finished bracelet, choose according to its additional properties:
For those who forgot how to whistle.
When you get in trouble, you can often forget even the basic things – like whistling. So, why not make sure you'll be fine with this 2 in 1 – paracord and a whistle?
For those with orienteering non-sense.
North is where the moss grows, where Polaris shines or … where the compass on this paracord bracelet shows!
For those who want to sparkle
You're alone in the woods, it's black as cole and cold as dead man's feet, but you're fine – you have your paracord bracelet! And its fastening, which works as magnesium steel and flint.
---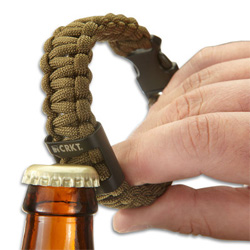 For those always thirsty.
A line of paracord bracelet accessories includes this bottle opener, which easily slips on the bracelet. How practical! Now you're not losing this one again.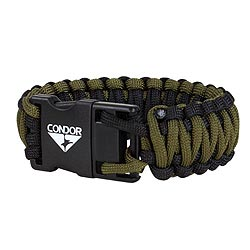 For those who think of everything.
Paracords also have such original accessories as flash disks. You can store the plans of your enemy's base camp, or other secret materials there. Who would search in the bracelet, right?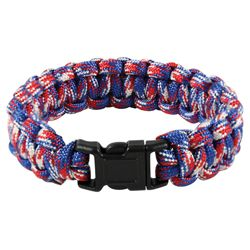 For patriots.
To carry 3 metres of a strong cord and to express your love for your homeland at every ocassion – that you can do with this white-blue-red combo. We have plenty of other colours, too!
---
---